Fisher Boy
Ocean Taters™ Breakfast Tacos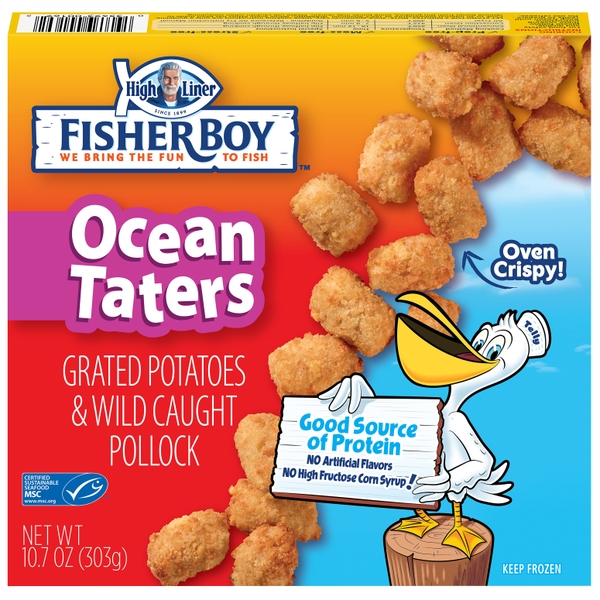 Featured
Fisher Boy® Ocean Taters™ 10.7oz
The perfect blend between potatoes and lightly seasoned wild caught pollock. Fisher Boy Ocean Taters™ are a great way to incorporate seafood into your family's weekly meal routine!
View Product
Ingredients
1 box Fisher Boy® Ocean Taters™ (approximately 10.7 ounces)
6 each 6" Flour Tortilla, lightly toasted if desired
6 each Eggs
1/3 cup Milk
1 tbsp. Unsalted Butter
1/2 cup Shredded Cheddar
2 tsp. Kosher Salt, divided
1 Avocado, chopped
1/2 each Lime
1/2 cup Tomato, chopped
2 each Scallions, chopped
1 bunch Red Grapes (optional)
Directions
Prepare Fisher Boy Ocean Taters™ according to the package instructions.

In a medium sized bowl whisk together the eggs, milk and 1 teaspoon of salt. Set aside.

In a separate bowl, mash together the avocado, juice from half a lime and a teaspoon of salt. Once a guacamole type consistency is achieved mix in the tomato and scallions.

For the scrambled eggs: Melt the butter over medium heat in a nonstick pan. Add the reserved egg mixture. Continue to gently stir the eggs in every corner of the pan. As the eggs begin to cook be cautious of overcooking.

To assemble breakfast tacos: Lay out all six of the flour tortillas across a cutting board or work surface. Evenly divide the scrambled eggs between each. Sprinkle each taco with about a tbsp. of shredded cheddar. Remove the fully cooked Fisher Boy Ocean Taters™ from the oven and evenly distribute between the tacos. Add the chopped tomatoes, chopped guacamole and sprinkle with scallions to finish. Suggestion: pair the tacos with red grapes.